The annual fund is a critical resource that provides for the university's greatest needs. Every gift makes a difference.
One of my life goals is to make education possible for more students by donating to scholarships. Scholarship students like me learn a great lesson in gratitude.

Denisse Rodriguez '15, '16, Levitetz Family Scholarship and Merit Scholar
Alumni Pay It Forward
Endowed Scholarship
Support first-year students in good academic standing with an expressed financial need.
Alumni Pay It Forward
Many Lynn students need and receive financial support. The Alumni Pay It Forward Endowed Scholarship supports first-year students in good academic standing with an expressed financial need—helping them to worry less about money and focus instead on uncovering their academic potential.
Because of our donors, we can help a deserving student who cannot afford to continue their education. Gifts to this endowment are forever gifts, allowing us to educate deserving students in perpetuity.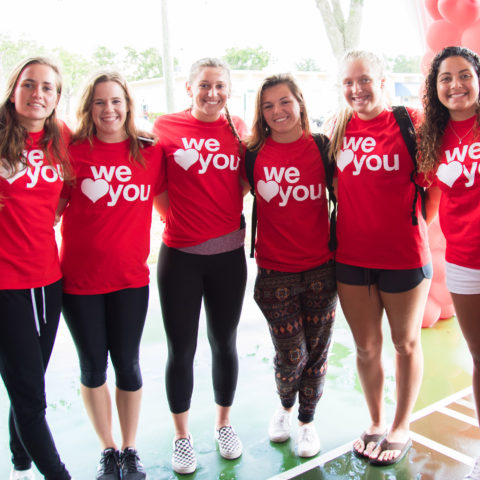 Ensure excellent standards for all Lynn students through an annual gift of $2,500 or more.
Leadership Society
The Leadership Society is the premier annual giving association for donors who are committed to ensuring a standard of excellence for all Lynn students. Your annual gift of $2,500 or more helps provide the education, support and environment for students to realize their true potential and achieve success in the world.
Members receive:
Invitations to exclusive events throughout the year
Networking opportunities with other donors and university administrators
Recognition at university events for the impact your leadership gift has made
Your generosity supports everything we do at Lynn. See how class gifts have helped shape the lives of so many.
Learn more
Faculty and staff annual giving
When those who know the university best give back, it sends a powerful message. We are fully committed to building something important.
Faculty and staff annual giving
Even a small donation makes big things happen, so support Lynn with a gift at any level. If your spouse or partner's company has a matching gifts program, you could double—or even triple—your gift. Employees may donate using cash, check, credit card or payroll deductions. Automatic payroll deduction is easy. Set up yours during open enrollment, and see how quickly your bi-weekly gift adds up:
| Bi-weekly payroll deduction | Annual total |
| --- | --- |
| $1.93 | $50 |
| $3.85 | $100 |
| $9.62 | $250 |
| $19.24 | $500 |
| $38.47 | $1,000 |
| $57.70 | $1,500 |
| $76.93 | $2,000 |
| $96.15 | $2,500 |
I donate because I want others to have the experience I enjoy at Lynn. The best part is, it's easy. I have my gift deducted directly from my paycheck, so I never even miss it.

Loren Cohen, Senior Security Supervisor, Lynn Campus Safety
Featured projects and programs
Empower academic innovation, support the arts and assure a Lynn education for students with great potential.
Support high-quality music education through fundraising and community outreach.
Membership provides scholarships, programs and equipment for athletes. Plus a few nice perks for you.
Blue & White Club
Blue & White Club giving levels
Benefit
Fighting Knight's Club
$5,000
A.D.'s Club
$2,500
Director's Club
$1,000
Coach's Club
$500
Captain's Club
$250
Student-Athlete Club
$100
Championship Club
$23
Athletics email updates

✓
✓
✓
✓
✓
✓
✓
Invitations to club functions
✓
✓
✓
✓
✓
✓
Admission to exclusive club social area
✓
✓
✓
✓
✓
Invitation to annual athletics banquet
✓
✓
✓
Invitation to special club events
✓
✓
Membership in Lynn's Leadership Society
✓
✓
Special recognition at select event
✓
Donations are tax deductible to the extent allowable by law.
I give because Lynn has given me so much. I am thankful to study and work at a university that makes a difference in the lives of so many students. I couldn't be more proud to call this place home.

Taryn Hamill, Associate Director, Lynn Office of Admission
I donate to Lynn University because education is important and so is helping others. I will continue to donate to Lynn and its many departments to help educate the students and get whatever they need.

William Levy, Campus Safety Officer, Lynn Campus Safety