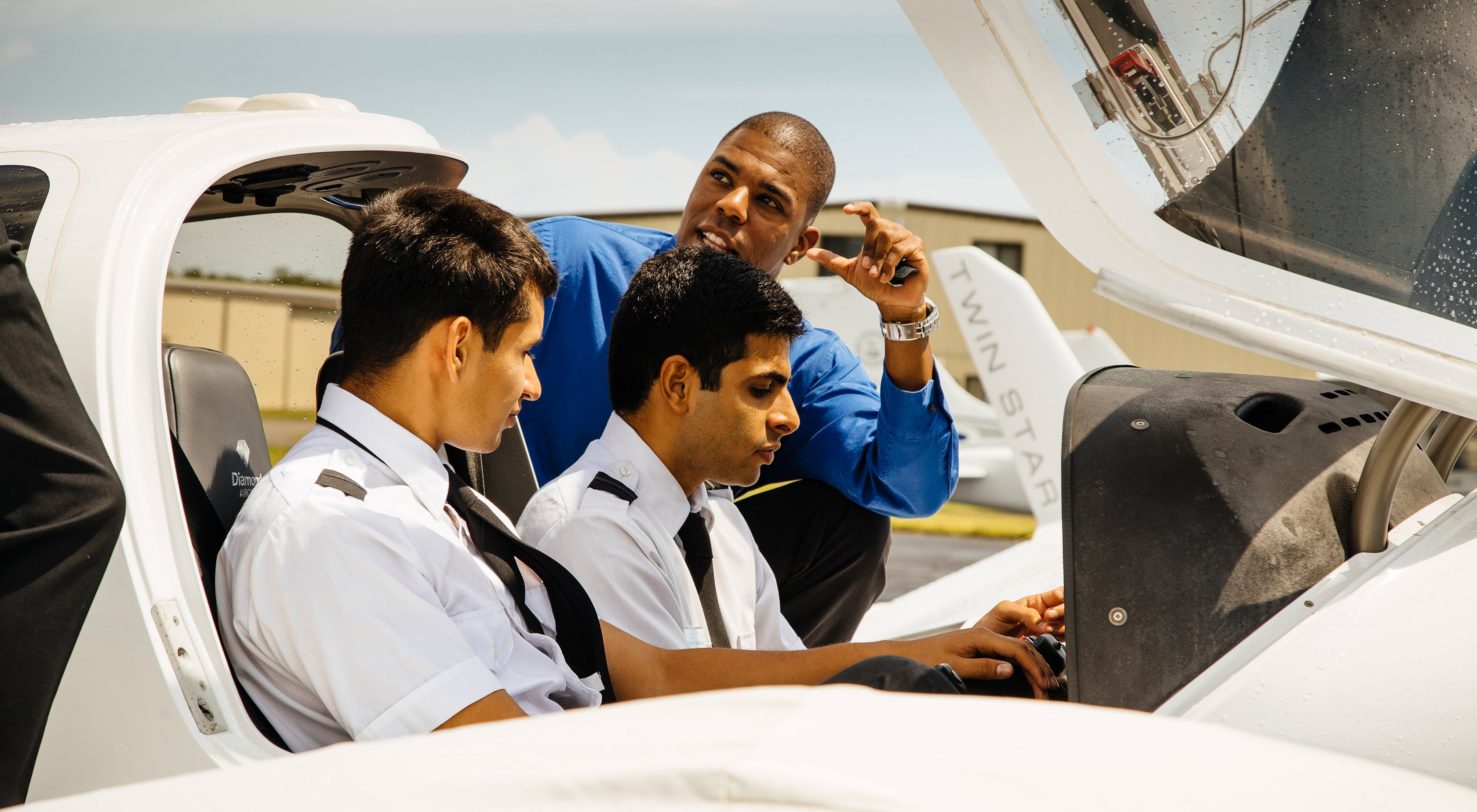 Do you want to take to the skies and learn about the business structure of the aviation industry? Take off in the aviation industry with one of Lynn University's aviation degrees. No matter which aviation program you choose, you will learn how to fly Lynn's Cessna 172s and DA-42 aircrafts at the nearby Boca Raton Airport.  
Take off with this exciting program if you want to become a commercial or private pilot. Lynn's flight training prepares you to take the restricted airline transport pilot (ATP) ground test. Distinguish yourself from graduates from other programs. Lynn is one of the few schools that offers this training.
Want to become a commercial or private pilot but don't want to sign up for college? Enjoy a one-on-one learning environment from flight instructors with years of experience. You will receive ground school training on Lynn's campus and flight academy training at the nearby Boca Raton Municipal Airport.
Private pilot
In a private pilot certification program, you will learn how to fly solo in a single engine land-class plane on a non-commercial basis. While you cannot fly for profit with this license, you can donate your services to charities and fly loved ones. Obtaining a private pilot license is also the first step in becoming a commercial pilot.
To obtain a private pilot license, you must:
Be at least 17 years old
Obtain a third-class medical certificate from the FAA
Have an authorized instructor endorse your pilot training
Pass the private pilot written, oral and practical exams
Log at least 45 hours of flight time
In a commercial pilot certification program, you will master advanced flight maneuver skills and commercial flight theory. With this license, you can become a certified flight instructor. With additional licensure, commercial pilots can work for commercial airlines.
To obtain the commercial pilot license, you must:
Be at least 18 years old
Hold a private pilot license
Hold at least a second-class medical certificate
Pass the FAA oral, written and practical tests
Log at least 250 hours of flight time
Be able to communicate effectively in English
Aviation management
In an aviation management program, you will learn about the core business structure of the aviation industry. You will learn to manage and maintain operations and become familiar with the finances and scheduling involved. With a degree in aviation management, you will be eligible for careers in the business side of aviation and piloting.
Aviation careers you can achieve with a degree in aviation management:
Aviation operations manager
An airport operations manager ensures airports comply with local, state and federal regulations. They make sure the business operations run smoothly, and hire and manage airport staff. They are involved in fleet management, marketing and revenue management.
Aviation marketer
As an aviation marketer, you will create ads and marketing campaigns to promote your airline. These include ads on billboards, commercials on television and radio, print ads and web pages. You will also buy ad space, communicate with clients and write copy.
Airport manager
Airport managers ensure that an airport runs smoothly and regulations are followed. This involves budgeting, inspection, managing schedules of airport personnel and monitoring construction projects. Airport managers also prepare strategies for airport development and manage crews in emergencies.
Get started with Lynn
No matter what career you choose, Lynn University's aviation degree programs provide you with the resources and practical training you need to succeed. Learn more about aviation management degrees and pilot schools.